Grohe
Sense Guard Smart Water Controller
Model:
22503LN0


Product Overview
The GROHE Sense Guard water control system continuously monitors water pressure in the pipes, detecting every anomaly from minor leaks to a major burst. Once a pipe burst is detected, the water supply is automatically shut off and an alert is sent to your smartphone. AqualQ self-learning algorithm learns your patterns of water consumption and alerts you if your water consumption is higher than usual, even detecting minor leaks and notifying you on your smartphone. GROHE Sense Guard also monitors changes in temperature and water pressure to help prevent frost damage. Grohe Sense Guard connects to your home WiFi network. In the case of a connectivity loss, GROHE Sense Guard continues to protect your home by shutting off water in the event a pipe burst occurs.
Grohe 22503LN0 Basic Requirements:
Single-family residential home use only
Must be installed on potable cold water line only with a maximum 1" pipe size
110 V US plug type A standard electrical outlet needed
Wireless LAN is needed to connect to the ONDUS app
Product Features:
Guard comes standard with 3/4" NPT male adapters. A 1" NPT male adapter mounting bracket is available but sold separately
For wireless LAN, mains powered, 110 V, US plug type A
Detects pipe breaks, micro leaks, frost and unusual water flow
Automatic, manual or remote shut off function to limit water damage
Detects leaks by measuring flow rate and water pressure
Valve normally open - without electricity the solenoid valve opens
Use ONDUS App for both iOS and Android for customized settings and remote control
Status indication via LED light, buzzer and app
For horizontal or vertical installation right after the water meter. Please follow the installation instructions carefully
Includes 70 7/8" power cable, plug type A
CE approved and meets the requirements of IAPMO IGC 349-2017
Noise classification 1 in accordance with DIN4109 incl. certificate
---
This product is listed under the following manufacturer number(s):
Manufacturer Resources
Included Components
Characteristics and Features
Product Videos
GROHE - 22503LN0 Intro

Introduction to the power and usefulness of Grohe 22503LN0. Mini...

Grohe 22503LNO INstallation Guide

22503LN0 Installation Guide Video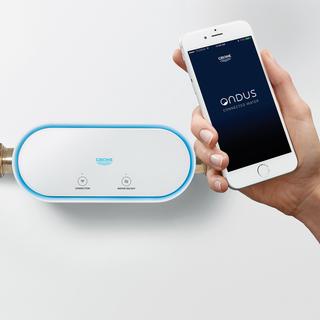 GROHE - 22503LN0 Intro
Introduction to the power and usefulness of Grohe 22503LN0. Minimize damage from pipe breaks and be notified immediately with Grohe Guard.