When you talk about bathroom accessories, there's virtually no limit to what you can add—it all depends on what you need, what you'd like, and how much space you have in your bathroom. We could safely place accessories into two categories: necessities and luxuries. Either way, your bathroom gets a sizeable upgrade with the right accessories.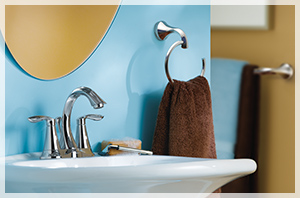 Imagine your bathroom without the necessary accessories. Wet towels would be on the floor right next to the used, wadded-up tissues and we won't even talk about where you'd keep your toilet paper. Necessities like towel bars, waste baskets, and toilet tissue holders can help organize a bathroom. And most manufacturers do a fantastic job of categorizing these necessities into bathroom accessory sets, coordinating the styles, designs, and finishes for a look of harmony. Other helpful bathroom accessories include towel rings, robe hooks, soap dishes, shelves, and mirrors.
Now, to luxury bathroom accessories. These items truly round out your bathroom accessory offering and will help make life much nicer. The most sought-after luxury bathroom accessories are body sprays for your shower. They typically provide multi-spray functions and will certainly help you relax. Similarly, hand showers often offer multiple functions. And one of the most luxurious bathroom accessories around (and certainly one that makes a lot of sense) is the heated toilet seat.
Bathroom Accessories

FaucetDirect has a comprehensive selection of bathroom accessories. We offer collections from top manufactures and designers to change the look of the bathroom. Whether replacing an accessory or remodeling the bathroom, there is an accessory to fit your needs. The basic decor accessories for the bathroom are towel bars, toilet paper holder, towel ring, and a robe hook. Other functional items you can add to the bathroom are; shelves, mirrors, soap dispensers, tooth brush holders, and medicine cabinets.
We also carry plumbing accessories for bathtubs, showers, toilets and sinks. These items include tub drains, shower arms, wall supply valve, toilet seats, tank levers, and p traps.

Bathroom accessories are those extra items that sometimes need replaced or add a fresh touch to the home. For example in the bathroom a new towel bar, towel ring, robe hook, tissue holder, and tank lever can me a great way to match continuity to the bathroom. So many times we see an oil rubbed bronze mixing with brass or brushed nickel. However, when you shop by brand and collection there are matching faucets and accessories.
Some nice upgrades for functional bathroom accessories are in the shower. A new shower head, body spray or hand shower can be a great opportunity to enhance the shower experience.